Return to Headlines
Parkway's Music Education Program Receives National Recognition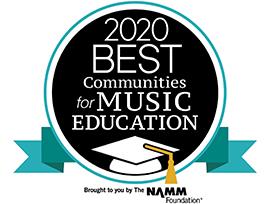 4/16/2020 -- Parkway Schools has been honored with the Best Communities for Music Education designation from The National Association of Music Merchants (NAMM) Foundation for its outstanding commitment to music education. Parkway is one of only six districts in Missouri to receive this designation.
Now in its 21st year, the program honors schools and school districts for outstanding efforts by teachers, administrators, parents, students and community leaders and their support for music education as part of the core curriculum.
In cooperation with researchers at The Music Research Institute at the University of Kansas, the Best Communities for Music Education program evaluates schools and districts based on funding, staffing of highly qualified teachers, commitment to standards, and access to music instruction.
Evidence continues to accelerate around the benefits of music education for students, schools and communities. In 2018, Music Matters, the condensed guide from the Arts Education Partnership and co-sponsored by the Country Music Foundation and The NAMM Foundation, was released. The report offered key findings including music students do better in English, math, and science than their peers without music; and more music and art equals fewer dropouts and a reduced number of suspensions.
Over the past 21 years, the number of school districts gaining Best Communities for Music Education recognition has grown, from fewer than 100 in 1999 to more than 600 today. Best Communities for Music Education designation has helped raise local awareness of quality music programs from coast to coast and has assisted communities in securing funds for music programs threatened by budget cuts.
About The NAMM Foundation
The NAMM Foundation is a nonprofit supported in part by the National Association of Music Merchants and its approximately 10,400 members around the world. The foundation advances active participation in music-making across the lifespan by supporting scientific research, philanthropic giving, and public service programs. For more information about the NAMM Foundation, please visit www.nammfoundation.org.