Return to Headlines
Letter to the Parkway community from Superintendent Dr. Keith Marty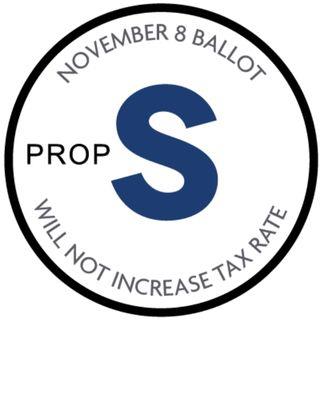 10/7/2022 -- The letter below was sent to residents in the Parkway community about Prop S. You can find more information about Prop S here.
Dear Parkway resident,
As superintendent, it is my responsibility to provide you with information about our schools. Whether you have children in Parkway or in private schools, are new to the area, or are a long-time resident, this information might be important to you.
For more than 68 years, Parkway has served this community by providing public schools that exceed state and national standards. As you may be aware, school districts rely on bond issues to pay for major capital replacement and renovation projects in schools as they age. Recently, the school board voted unanimously to place a $265 million bond issue on the Nov. 8 ballot to fund the next six years of our ongoing facilities plan.
Proposition S, a no-tax-increase bond proposal will appear on the ballot on November 8. As you consider the proposal, here are answers to some of the questions you may have:
How would the funds be used?
For the next six years (2023-2028), funds would be allocated toward key priorities that were identified by residents. To see all projects by school, visit parkwayschools.net.
Capital replacement projects: Replace old heating/cooling units to improve air quality and efficiency; replace old roofs, doors, windows, pavement, electrical and plumbing
Safety and security: Upgrade security cameras, install fire sprinkler systems and remove a

sbestos
Technology: Classroom flat panels, emergency disaster recovery, network upgrades and a re-designed fiber network to avoid outages
Accessibility: ADA projects to support students and community members
Classrooms, playgrounds and locker rooms: Updates to restrooms, locker rooms,

playgrounds, and the addition of an early childhood center to address increased demand
How can we complete these projects without raising taxes?
Each year, Parkway pays off debt from previous bonds. As our loan balance decreases, we are able to borrow more money and pay it back using revenue from the existing tax rate. Therefore, Proposition S will not increase the tax rate. The state requires school districts to seek voter approval to issue bonds even if the tax rate stays the same. We also want to ensure our priorities are aligned with our community.
Why is this being proposed?
Parkway has more than 3.5 million square feet of school facilities with a replacement value of more than $875 million. That's roughly the size of three Busch Stadiums. The average age of a Parkway school is 54 years. Our schools were well constructed when they were built, but require ongoing replacement, renovation and general upkeep just like our homes. The last bond issue was in November 2018. Due to the age of our schools, Parkway typically asks the community to approve a bond issue about every four to five years. This bond issue would fund facilities projects for the next six years.
If Prop S does not pass, will our tax rate go down?
Not for several years. As old bonds are paid off, the tax rate would eventually be reduced unless voters approve another bond issue. Some work would have to be deferred and most school projects would be postponed indefinitely. The most critical capital replacement needs will have to be addressed. To pay for this, money would need to be redirected from the day-to-day operating budget, which pays for teacher salaries and classroom instruction.
How much debt does Parkway have?
Parkway has been fiscally conservative and currently only has 4 percent of its assessed value in debt. The state allows school districts to borrow up to 15 percent of their assessed value. Parkway has a AAA bond rating from Standard and Poor's, the highest rating available for school districts. Parkway is one of only four districts in Missouri to earn the AAA bond rating.
How will Proposition S appear on the Nov. 8 ballot?
Shall the Parkway School District borrow money in the amount of Two Hundred Sixty-Five Million Dollars ($265,000,000) and issue general obligation bonds for the payment thereof, resulting in no estimated increase to the debt service property tax levy, for the purpose of renovating, repairing, improving, furnishing and equipping school facilities, including but not limited to capital replacements, classroom technology and network upgrades, constructing an early childhood center, upgrading locker rooms and playgrounds, building additions and ADA and safety upgrades? If this proposition is approved, the adjusted debt service levy of the school district is estimated to remain unchanged at $0.49 per one hundred dollars assessed valuation of real and personal property.
I hope this provides you with information to help make an informed decision. Thank you for your time. For more information, feel free to call my office or visit our website at parkwayschools.net.
Sincerely,

Keith A. Marty, Ed.D.
Superintendent
Parkway Schools