Return to Headlines
School supplies for 2020-21 school year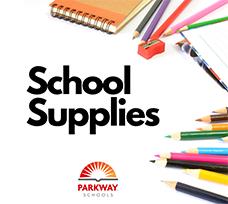 7/21/2020 -- For the 2020-21 school year, Parkway will purchase school supplies in bulk for all elementary and middle school students. In order to protect the health and safety of everyone, students will not bring their own supplies to school. Parents will pay for supplies in an online store for a minimal fee. School supplies will be at school in your child's classroom when the decision is made to return to school in person. Your school will communicate about what supplies you might need for Distance Learning at home.
If you selected virtual learning for the first semester, you also have the option to order school supplies for use at home. Your child's school will contact you to make arrangements for you to pick them up.

The benefits of district purchased school supplies includes:
Cost savings for families as Parkway will purchase supplies in large bulk quantities.

Parents will avoid the frustration of shopping and finding all the items on the list including cleaning supplies and hand sanitizer which are not widely available.

Supplies arrive at school for students on the first day avoiding any germs on supplies.
Instructions on paying for school supplies will be communicated soon.
Supplies will include hand sanitizer and disinfectant wipes. To see the entire supply list by grade-level, click on your grade level below.
The cost per student varies by grade level. The cost per grade level is:
Elementary
Kindergarten - $28
First grade - $30
Second grade - $30
Third grade - $31
Fourth grade - $29
Fifth grade - $29
Middle School - $33
High school - Students will receive a list of supplies from their teachers on the first day of school.

In an effort to keep students safe from the possible spread of illness, they will not be sharing supplies at school.
We recognize that families may need financial assistance with school supplies. Parkway will ensure that each student has the supplies they need at school. You can also help support families who need assistance by making a donation to the School Supply Fund. For example, a $30 donation would provide school supplies for one student. You can donate school supplies to a student(s) here. (Once you enter in your donation amount, click add to cart, then click the cart at the top of the page to submit your donation.)