Return to Headlines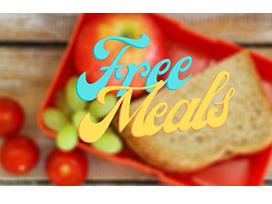 10/19/2020 -- All meals including breakfast and lunch will be distributed for free to all students K-12 during the second quarter. Free meals will be available for Virtual Campus students and those attending in-person at school. This free program is provided to all public school districts with federal USDA funding through December 31, 2020.

Meals and menus can be found here.

There will be no ala-carte sales in elementary schools, but students will be able to purchase milk or juice if they bring lunch from home. Students will need funds in their meal accounts in order to purchase drinks. Snack bars will be open in middle and high schools. Students must have funds in their accounts to purchase items at the snack bar.

All Adult meals must be purchased. The Department of Elementary and Secondary Education does not cover any adult meals or purchases.

How to deposit money into meal accounts if needed:
Online deposits with MySchoolBucks
Deposit by cash or check in a deposit envelope and dropped in the box at the school office or cafe
We will continue to have weekly meal boxes available once a week at various locations for students in Virtual Campus. In addition, during our blended transition weeks, we will have meals available for days students are not attending school in-person. You can sign up for meals here. You can choose your pickup location as well as how many days you will be picking meals up for your children. Families can choose a box that includes three meals or five meals, which will be available for Virtual Campus students and during blended learning schedules.