Return to Headlines
Nominate a Pillar of Parkway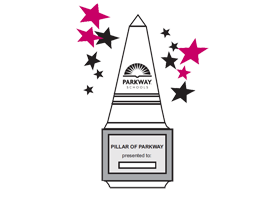 1/10/2017 -- Give someone the special joy of knowing they are appreciated.
Thank a teacher, staff member or volunteer for all they do by nominating them for the prestigious Pillar of Parkway award. Nominate a deserving individual online here. The deadline is February 2.
What is the Pillar of Parkway award?
Each year, individuals who have made a long-term commitment and provided outstanding leadership and service to Parkway, can be nominated to be honored as one of approximately 10 -12 winners selected by a committee of former Pillars of Parkway.
The Pillars of Parkway will be honored at Appreciation Evening on April 24, along with retirees, service award honorees, Teachers of the Year and Albert award winners.