Return to Headlines
NEW! School supplies for Distance Learning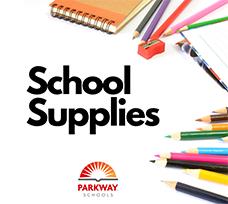 8/10/2020 -- As we begin the year with distance learning, we wanted to share the following update on school supplies.

In addition to school supplies, we will provide textbooks, leveled reading books and other physical materials needed for distance learning. There is no additional cost to families for these items and items will vary by grade level. Your school will communicate when you can pick up these materials before school begins.

Elementary school families:
In order to support distance learning at home for the first quarter, elementary families can order and pay for the school supplies box now which you can pick up at school before school begins. School supply boxes are an optional purchase for families who prefer to have school supplies at home now to support distance learning.
Elementary families who wish to order the school supplies box now should pay online as soon as possible so you can pick them up before school starts. To pay for your supplies, login to Infinite Campus, click on "More" (on the left), then "Online Payments" under "Quick Links." The school supply fee has been added to your child's account.

Middle school families:
Your school will share what items will be needed for distance learning at home.

When we are able to return to school in-person, school supply boxes will be available for purchase and will be at school on the first day. You are welcome to pay for the boxes now, but it will not be needed for the first quarter.

If you selected the Parkway Virtual Campus for the entire first semester, you can order the supply box now if you choose. Your school will identify a time for you to pick up the supplies.

High school families:
Students will receive a list of supplies from their teachers and your school will communicate pickup times for additional curricular materials needed for distance learning.

What you need to know:
The benefits of district purchased school supplies include cost savings for families as Parkway purchased supplies in large bulk quantities and the convenience of ordering and purchasing supplies for families. School supply boxes are optional for Parkway families for the first quarter.

We recognize that families may need financial assistance with school supplies. Parkway will ensure that each student has the supplies they need. You can help support families who need assistance by making a donation to the School Supply Fund. For example, a $30 donation would provide school supplies for one student. You can donate school supplies to a student(s)

here

.
To see the entire supply list by grade-level, click on your grade level below. The cost per student varies by grade level. The cost per grade level is:

Elementary
Kindergarten - $28
First grade - $30
Second grade - $30
Third grade - $31
Fourth grade - $29
Fifth grade - $29

Middle school - $33