Return to Headlines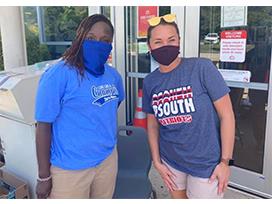 9/17/2020 -- We discussed plans for the second quarter with the board of education last night and wanted to share the following update:
At this time, we are hopeful we can provide in-person learning for the second quarter, which begins October 27. Our goal is to provide at least part-time instruction at school for all PreK-12 families who have chosen in-person learning. We will continue to provide the Parkway Virtual Campus option for families.


Returning to school at the end of a quarter is ideal because it's already a natural break in curriculum and instruction. It also avoids students having multiple changes in teachers and routines and provides quality learning throughout the transition.


We know our youngest elementary students are struggling the most with distance learning. So we are developing plans for younger students to have in-person opportunities at school in late October to help them transition back. We will share more on these plans soon.
Later today, you will receive an email for each child in your family asking you to confirm your choice for in-person or virtual learning for the second quarter. Please respond by September 23 so we have accurate information for your family.

As a reminder, your learning options are to follow Parkway's In-Person Plan or to continue online learning through Parkway Virtual Campus. Please visit this page for differences between current distance learning and Virtual Campus.
When we are able to return, teachers will need to be shifted to match the choices of our families in each school. Our goal is to keep as many students as possible with their current teachers. It's important to know some students may change teachers both for in-person learning and for Parkway Virtual Campus.


If you choose Parkway Virtual Campus, your child will be grouped with other students from their school. Students in Virtual Campus will have a Parkway teacher from their school or another Parkway school depending on enrollment and family choices. Our goal is to match students with teachers from their home school and we are working to avoid teacher changes for students as much as possible.


At this time, we have not made a decision regarding a blended or full-time schedule when we return. The decision will be driven by health and safety for our students and staff using the data outlined below. If we use a blended schedule, as a reminder this is what in-person instruction would look like for students here. Again, we plan to make a final decision by the beginning of October regarding instruction for the second quarter.
We are assuming your choice for in-person learning or virtual applies to the remainder of the school year. However, if you determine your choice is not working for your child, we will accommodate requests for changes to the greatest extent possible. Please note that multiple changes between virtual and in-person cannot be accommodated in order to provide staffing and guarantee class sizes.
You can see the data we are using to inform our decisions on the Parkway Community Health Dashboard here. We are seeing more positive, encouraging trends in the data and are hopeful these trends will continue. We will certainly continue to update you on our plans.

We have received enormous positive feedback about Parkway teachers and the amount of quality instruction during distance learning. We are so grateful to our teachers and parents for your work and support to make this quarter successful for our students despite the challenges!