Return to Headlines
Eleven Parkway schools receive Promising Practices award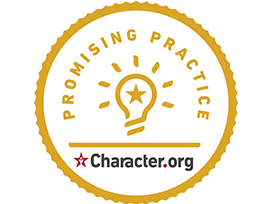 6/22/2020 -- Eleven Parkway schools received a Promising Practice award from Character.org. To receive a Promising Practice award, schools must demonstrate how they put one or more of the 11 Principles of Character Education into action. Character.org has certified 246 Promising Practices in schools and organizations across the country that foster character development in our children and teens.
The Parkway schools listed below were recipients of a 2020 Promising Practice award.
Barretts Elementary
Craig Elementary
Highcroft Ridge Elementary
Mason Ridge Elementary
McKelvey Elementary
North High
Northeast Middle
River Bend Elementary
South High
West High
West Middle
Character.org will honor each 2020 Promising Practice recipient at its National Forum in Washington, D.C., to be held March 3-5, 2021.
"We are extremely proud to recognize the schools and organizations that have developed and implemented a Promising Practice" said Dr. Arthur Schwartz, president of Character.org. "Each of these programs and initiatives have demonstrated significant impact and strongly align with the principles that help schools and organizations cultivate a culture of character.
About Character.org
Founded in 1993, Character.org is a non-profit organization based in Washington, D.C. Our mission is to provide the voice, visibility, and resources for educators to build nurturing and supportive school cultures that focus on core values and character strengths vital to student and school success. Character.org is widely known for its 11 Principles Framework for Schools, a comprehensive framework developed by school leaders and character development researchers. The vision for Character.org is to expand our work to families, sports, and the workplace. Visit www.character.org to learn more.