Return to Headlines
Four Parkway schools and district recognized for its character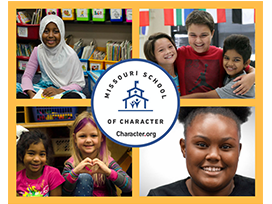 1/31/2017 -- The Parkway School District and four Parkway schools – Carman Trails and Green Trails elementary and Northeast and Southwest middle -- were named 2017 Missouri Schools of Character. The district and the schools demonstrated that their focus on character development has had a positive impact on academic achievement, student behavior and school climate.
These four schools join five other Parkway schools of character that have been recognized at the state and national level.
The designation comes from Character.org, a national advocate and leader in the movement to educate, inspire and empower young people to be ethical and engaged citizens.
The Schools of Character application process is an opportunity for schools and districts to receive thoughtful feedback for growth and excellence in the area of character development through Character.org's 11 Principles of Effective Character Education framework. It is also a method of recognizing exemplary schools and districts in the nation.

About Character.org
Founded in 1993, Character.org, is a national nonprofit based in Washington, D.C. It works with schools and districts to inspire, educate and empower young people to be ethical and engaged citizens. It is led by education leaders who are dedicated to youth learning how to be both smart and good through the advancement of quality character development in all schools. The impact of this is seen through improved academic achievement, decline in behavioral problems such as truancy and school violence and an increase in an overall positive school climate. Visit www.character.org to learn more about the Schools of Character program and the National Forum.
About Character Education
Character education is an educational movement that supports the social, emotional and ethical development of students. It is the proactive effort by schools, districts, communities and states to help students develop important core ethical (recognizing what's right) and performance (doing what's right) values such as caring, honesty, diligence, fairness, fortitude, responsibility, grit, creativity, critical thinking and respect for self and others.