Return to Headlines
Chelsea Watson named deputy superintendent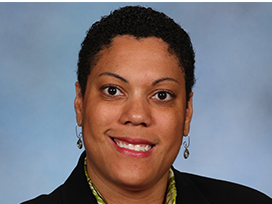 2/15/2017 -- Superintendent Keith Marty announced that Chelsea Watson has been named Parkway's deputy superintendent, effective July 1. The board of education voted unanimously in support of the recommendation at its meeting last Wednesday night.
Watson is a lifelong Parkway student, alumna and educator. In a letter to staff, Superintendent Marty praised Watson by noting that she fully embraces the district's traditions and has a strong vision for the future. "I am grateful for the opportunity to serve Parkway in this new role. I will continue to work on behalf of our students and community," Watson said.
Watson has demonstrated consistent commitment to Parkway's mission and goals. She created a student services department that enhanced character education, improved the district's relationship with the Special School District, developed consistent registration and attendance procedures and reviewed discipline and intervention practices that led to restorative practices and a focus on individual student needs.
Watson has been the assistant superintendent of student services in Parkway since 2012. Before that, she was at Parkway Southwest Middle School for 15 years, nine of which was as the principal. Watson started her educational career in 1992 as a teacher at Wren Hollow Elementary.
Watson earned a bachelor's degree in elementary education at Drury College in Springfield, Mo. She received a master's degree at Maryville University and earned her doctorate in educational leadership at Lindenwood University.
Watson will replace Desi Kirchhofer, who accepted the superintendent position at the Northwest School District.