Return to Headlines
Two Parkway schools named 2017 U.S. Department of Education Green Ribbon Schools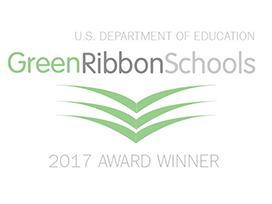 5/4/2017 -- The U.S. Department of Education announced today that McKelvey Elementary and North High, both in the Parkway School District, are among the 2017 U.S. Department of Education Green Ribbon Schools award honorees. Parkway received two of the three awards in the state.
McKelvey Elementary has an active Green Team of staff and students. The club meets weekly to lead recycling efforts, encourage green living, and identify and research problems and implement and measure solutions. For example, its work 96 includes recycling, composting, clean air, energy conservation, wind power, solar power, and solar panels. This student-led initiative has created many low-cost and easy to implement changes that result in resource conservation and utility costs savings and healthier learning environments.
Parkway North is a school that has a deep-rooted commitment to whole school sustainability. The school has worked to make its physical place, organizational culture, and educational program more sustainable. For many years, the school has been on the forefront of integrating environmentally preferable procedures into the everyday operating practices of the building. In most cases, these enhancements have been a direct response to student-driven initiatives, ranging from single-stream recycling programs, community clothing drop-off boxes, a shoe drive water project, composting for food scrap and compostable serviceware, river cleanup crews, rain gardens, and native prairie gardens.
Across the country, 45 schools, nine districts, and nine postsecondary institutions are being honored for their innovative efforts to reduce environmental impact and utility costs, improve health and wellness, and ensure effective sustainability education.
The honorees were named from a pool of candidates nominated by 28 states and the Department of Defense Department of Education Activity. The selectees include 39 public schools, including five magnet schools and one charter school, as well as six nonpublic schools. Forty-four percent of the 2017 honorees serve a disadvantaged student body and 14 percent are rural. The postsecondary honorees include three career and technical and community colleges.
The list of all selected schools, districts, colleges, and universities, as well as their nomination packages, can be found here. A report with highlights on the 63 honorees can be found here. More information on the federal recognition award can be found here. Resources for all schools to move toward the three Pillars can be found here.