Return to Headlines
Parkway CFO recognized by St. Louis Business Journal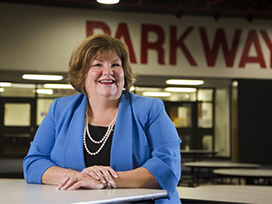 5/16/2017 -- Patty Bedborough, Parkway's CFO, has been named the St. Louis Business Journal nonprofit CFO of the year.
Below is the article in the St. Louis Business Journal by Veneta Rizvic.
Patty Bedborough will complete her third year as CFO of the Parkway School District this spring, but already has played a crucial role in helping the district grow its operating fund by $11.9 million during her tenure and saving the district nearly $3 million a year in other expenses.
The district, which has 28 schools and 33 buildings, has seen its operating fund balance grow by 4.86 percent, over the last three years, thanks in part to Bedborough. She developed a district policy that commits to growing the balance of the fund as a percentage of expenses by 0.25 percent each year. "I really need to find a way to help us remain in the surplus budget," Bedborough said.
A large part of that process, she said, is educating the staff and board members on how to control the district's expenditures and not allow them to grow at a faster rate than its revenue. Parkway reported revenue of $320.5 million in 2015 and $263.8 million in 2016. The district expects to see that grow to $297.3 million in 2017, she said.
The district's second-largest expenditure is its health benefits package, an item Bedborough worked to change in her first few months as CFO in order to create health plans that would meet growth targets. Lower insurance costs resulted in an increase for Parkway's self-insured medical fund balance, which had lost money the previous four years, Bedborough said. "Patty has taught me how to plan for the long term, how to work out those three-to-five-year projections, and she is just so knowledgeable about benefits and staff wellness," said Keith Marty, superintendent of the Parkway School District.
In addition, Bedborough, 52, has been instrumental in increasing Parkway's fleet of compressed natural gas buses, which led to substantial fuel savings, she said. The district was awarded a grant from the Clean Air Market division in 2014 that allowed it to purchase 30 of those buses, with 10 more to be added in July.
The CNG buses are about $20,000 to $30,000 more expensive apiece than regular buses, but Parkway saves about 50 cents per gallon in fuel, Bedborough said. That has resulted in nearly $300,000 in savings for the district per year for the last three years.
Bedborough has completed two successful bond issuances totaling $94 million, both passed in 2014. Proceeds from those are being used to replace the district's HVAC systems and boiler systems and add LED lighting to create a more energy-efficient district. Parkway also has installed solar panels at most of its buildings.
"I wouldn't say they are saving us a lot of money right now because the offset is making payments to lease the panels, but once they are paid off, we will see that money," she said of the solar panels.
Since her time at Parkway, Bedborough has had a hand in several other projects, including a sports marketing initiative that landed a number of paying advertisers for video boards at one of the four high schools within the district. She also spearheaded the reorganization of several departments after arriving at the district in 2014. In terms of financial stature, Bedborough has helped the school district maintain its AAA bond rating, which allows for lower costs in terms of long-term borrowing, she said.
Bedborough grew up in the St. Louis area and attended Duchesne High School. She received her bachelor's degree from the University of Missouri-St. Louis and her master's in business administration from Missouri Baptist University. She joined Parkway after spending 12 years with the Northwest R-1 Schools in Jefferson County. Prior to that, she worked as a financial analyst for Quebecor World, a printing subsidiary of Quebecor Inc. of Montreal, Quebec.
She serves on the board for the West County Family YMCA and is on the audit committee at Archdiocese of St. Louis.
Photo from Dilip Vishwanat, St. Louis Business Journal