Return to Headlines
Parkway receives 13 Promising Practices awards in Character Education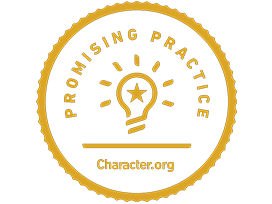 5/19/2017 -- Parkway schools received 11 Promising Practice awards from Character.org. In addition, the Parkway School District received two awards. Character.org awarded 300 Promising Practices to schools, districts and youth-serving organizations from across the United States – as well as from China and Mexico.
To receive a Promising Practice, a school must demonstrate how they put one or more of the 11 principles of character education into action. The following Parkway schools earned the award:
Craig Elementary
Moonlight's Meals
Moonlight's Meals provides families with free food assistance through our school ran Craig Community Food Pantry.
Highcroft Ridge Elementary
Highcroft Helping the Environment
Student family groups met on multiple occasions to discuss and research how they wanted to make our world a better place, submitting their ideas for a school vote, which was to help our environment.
Mason Ridge Elementary
Mason Ridge Ambassadors
Students visit our neighboring senior living center one time each week to build relationships with the residents that live there.
Central Middle
I Stand For
This lesson was a part of our year-long theme of what students and staff stand for in today's changing society.
Early Childhood
Parker's Peaceful Moments
Parker's Peaceful Moments is a home and school based focus on building connections through activities that build awareness to self, others and the environment.
Northeast Middle
Challenge Science For ALL
One way in which we merge academics and character is by offering Challenge Science For ALL, where any student who has an interest and the Viking Value of grit can tackle this rigorous academic option.
Northeast Middle
The Legacy Board
For three years, we have watched students find voice and purpose through our character education embedded curriculum as they discovered what their personal legacies would be in our school and the world.
South High
SouthTalks
SouthTalks fosters a network of relationships among our student body, staff and community leaders in order to seek a deeper understanding of the views, values and cultures of a diverse world.
West High
Empowering Young Women through Leadership & Positivity
This group was created to build the self-esteem of high school women by promoting awareness, resiliency & empowerment through a community of caring, support and encouragement in the group and school community.
West Middle
African American Scholars' Academy
The African American Scholars' Academy creates a collaborative community of learners who support and challenge one another to increase academic achievement and principles of character and leadership.
Wren Hollow Elementary
Counseling Cadets
The Counseling Cadets is a student leadership role consisting of 4th and 5th grade students who administer and lead many leadership and character-building opportunities with the student body.
Parkway School District
Principal Interview Questions: District Panel
Our staff interviews include questions about the applicant's commitment to character education. For principals we also ask how they will cultivate a positive school climate and their commitment to ALL kids
Superintendent's Social Justice Advisory Council
SSJLAC is a district wide club where students from our high schools meet to discuss social justice issues, current events, and provide a venue for serving, learning from, and educating their community
Character.org sponsors the annual program to showcase innovative best practices that are having an impact across the nation and abroad. Character.org encourages educators with similar needs to learn from and even replicate these successful initiatives. Character.org will honor the 2017 recipients at the National Forum on Character Education in Arlington, VA October 20-21, 2017.
About Character.org: Founded in 1993, Character.org is a national nonprofit based in Washington, D.C. The mission of the organization is to provide leadership and advocacy for character worldwide. It is dedicated to help people everywhere become educated, inspired and empowered to be ethical and compassionate citizens. Character.org validates character initiatives in schools, sports, families and the workplace through certifications and sharing of best practices. Results of effective character initiatives in schools typically include improved academic achievement, a decline in behavioral problems and an increase in an overall positive school climate.
About Promising Practices: The Promising Practices program highlights what's going well in classrooms across America and the world. The program is simple in scope and recognizes many wonderful ideas from passionate teachers who are making a real difference in the lives of their students. Each Practice must be tied to one or more of Character.org's 11 Principles of Effective Character Education.