Return to Headlines
Aspiring Parkway scientists completed STARS program at University of Missouri–St. Louis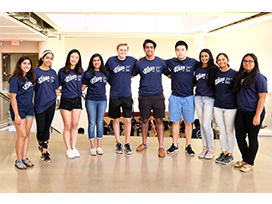 8/2/2017 -- Fifteen Parkway students joined 96 of the area's best and brightest high school students for the Students and Teachers as Research Scientists (STARS) summer program at the University of Missouri–St. Louis.
Last month, the confirmation ceremony marked the end of six weeks of intensive science research under the mentoring of leading local scientists. But it was also a new beginning for the STARS students, whose projects put them a step ahead as they look toward their college careers with undergraduate-level research experience.
STARS pairs academically talented high school rising seniors and new undergraduate students with more than 60 local scientists in the fields of biology, chemistry, computer science, earth science, engineering, environmental science, mathematics, medicine, physics and psychology.
The mentors are top researchers from Confluence Discovery Technologies, the Donald Danforth Plant Science Center, Saint Louis University, Washington University in St. Louis and the host institution, UMSL.
"UMSL is happy to offer STARS students, who are some of the best and brightest, exceptional, collegiate research opportunities," said UMSL Chancellor Tom George. "Hopefully the experience inspires them to become top scientists themselves and help make the world a better place."
STARS is sponsored by the Office of the Chancellor at UMSL, SLU, WUSTL, St. Louis Symphony, Monsanto, Missouri Botanical Garden, Academy of Science of St. Louis, Easter Seal Midwest, St. Louis Children's Hospital, St. Louis Zoo, St. Louis Symphony, University of Missouri–Kansas City, John Burroughs School and Boeing Co.
The 2017 Parkway STARS program graduates are:
Central High School
Krishny Karunanandaa
Anusha Manjunath
Michael Zhou
North High School
Sarah Kiran Butterfield
Saayli Nilesh Khambekar
Sohana Sridhar Pai
Deepa Shukla
South High School
William Chen
Avirath Ananth Dodabele
Nikita Kohli
Enoch Jasper Li
Saikushal Kumar Marri
Sudheesha Paladugu
West High School
Salomi Nimshi Inje
Abdullah Kuziez