Return to Headlines
Registration for Parkway's 2018-19 kindergarten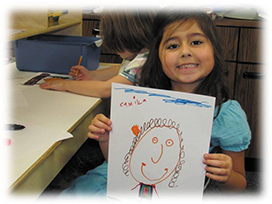 1/4/2018 -- Registration for Parkway's 2018-19 full-day, tuition-free kindergarten program opens Tuesday, January 23. Each elementary school is holding a special kindergarten registration event on January 23 from 7:30 a.m. to 6 p.m.
Following January 23rd, registration takes place at Parkway's Instructional Service Center located at 12657 Fee Fee Road, 63146.
Students must be 5-years-old before Aug. 1, 2018, to enter kindergarten for the 2018-19 school year.
Begin the kindergarten registration process online here.
The following documentation must be taken to your school to complete registration on January 23:
An official birth certificate, issued by the Office of Vital Records of the state/county in which the child was born;
the child's immunization records;
names and telephone numbers of three neighbors/relatives who can be contacted in case of an emergency when you cannot be reached, and;
two proofs of parent's/guardian's residency. These documents should contain parent-guardian's name and address. (One of the proofs of residency that must be produced is a contract to lease/rent, current real estate tax receipt or mortgage statement. The other proof of residency may be a current unpaid utility bill, bank statement, credit card statement, employer's record of address, or governmental acknowledgement of address (i.e., Social Security, voter registration, etc.) Driver's license is not accepted.
Wonderful Word of Kindergarten (Flyer)
Contact your Parkway neighborhood elementary school for additional information or call (314)-415-9900.
| | | | |
| --- | --- | --- | --- |
| Barretts | (314) 415-6000 | Mason Ridge | (314) 415-6450 |
| Bellerive | (314) 415-6050 | McKelvey | (314) 415-6500 |
| Carman Trails | (314) 415-6100 | Oak Brook | (314) 415-6550 |
| Claymont | (314) 415-6150 | Pierremont | (314) 415-6600 |
| Craig | (314) 415-6200 | River Bend | (314) 415-6650 |
| Green Trails | (314) 415-6250 | Ross | (314) 415-6700 |
| Hanna Woods | (314) 415-6300 | Shenandoah Valley | (314) 415-6750 |
| Henry | (314) 415-6350 | Sorrento Springs | (314) 415-6800 |
| Highcroft Ridge | (314) 415-6400 | Wren Hollow | (314) 415-6850 |