Return to Headlines
Bellerive and Green Trails elementary schools have been named 2018 National Green Ribbon Schools!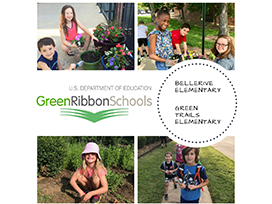 5/17/2018 -- Bellerive and Green Trails elementary schools have been named 2018 National Green Ribbon Schools.
Parkway received two of only four awards given to schools in Missouri from the U.S. Department of Education. Parkway now has four National Green Ribbon Schools - McKelvey Elementary and North High were named Green Ribbon Schools in 2017.
Across the country, 46 schools were honored this year for their innovative efforts to reduce environmental impact and utility costs, improve health and wellness, and ensure effective sustainability education. Learn more about the award here.
Green Trails Elementary was recognized, in part, for the following efforts:
In 2014, parents and staff became interested in a school garden, which has influenced both health and learning at the school. The Green Trails community came together on a Sunday to build the Green Trails community garden. The school now has a demonstration compost station, a sandbox, a pollinator bed, a watering system, and an herb garden. Instead of chemicals, the student gardeners use a vinegar-water blend and weed barriers such as newspaper, cardboard, and fabric. In 2015, a separate perennial fruit and berry garden was installed, and Green Trails was recognized as a Certified National Wildlife Habitat.
Green Trails hosts three communitywide weekend events a year that include planting, weeding, repair/clean up, and winterization. Involvement in the gardens allows students to experience in a hands-on manner what healthy foods look like, where they come from, where food scraps go, and in turn what can grow from the compost. The garden as officially a success when, after harvesting and sampling Bok Choy, we received numerous parent phone calls asking what Bok Choy was and where could they buy it.
The elimination of birthday cupcakes and cookies was met with joyful screeches from students when they learned they can go outside instead. When administrators raised the idea of doubling recess time outside, teachers were worried there would not be enough time to complete the academic content requirements of the school day. They quickly discovered it was easier to teach with more focused and happier children. Plus, the school experienced an overall decrease in office referrals by almost 19 percent as a result of the change.
Green Trails is using the school's fresh produce in school lunches. Examples include serving sweet potatoes from the garden as baked fries or homegrown kale in vegetable smoothies. Students have participated in tasting and cooking demonstrations such as making pesto. Displaying whole foods has helped students understand what a real pear, eggplant, or sweet potato looks like. Student-picked produce is provided free of charge to all in the cafeteria.
Through their Sowing Seeds project, students harvest, package, illustrate with their own artwork, and research and write planting instructions for each seed packet. These packets will be given to older adults through a "Grandfriends" partnership with a senior center and local church, and also sold to community partners to ensure pollinator gardens are being grown throughout the community.
Another way Green Trails students take reducing the school's footprint seriously was highlighted when the school partnered with 10,000 Pencils, an upcycling school supply project. Student leaders facilitated a school supply drive where hundreds of pounds of used crayons, pencils books, paper, notebooks, and other items were donated to students in an urban St. Louis school district and a Zambian school. This has brought a global connection to students about both saving resources and helping others in need.
The school community actively seeks to educate students and the community about reducing environmental impact, healthy living, and helping others. This has led to genuine environmental leadership by students. The concept of closing the loop and systems thinking then has been applied to many other projects such as reducing energy use, renewable energy, recycling, composting, health, wellness, and indoor environmental quality. Green Trails is proud to have been able to transform a school culture and created a movement all stemming from turning off lights and planting a garden.
Bellerive Elementary was recognized, in part, for the following efforts:
As a recognized Leader in Me Lighthouse School, Bellerive is aware that its most effective method for reducing environmental impact, improving health, and delivering sustainability education has been through students discovering their strengths and using them to lead and serve the school and community.
The past few years, Bellerive has worked to beautify the school grounds, and work is underway to create an outdoor oasis. There is an outdoor classroom in the courtyard and there are now are perennial plants with sections for Missouri native plant species. Bellerive also has an indoor tower garden which recirculates water.
As Bellerive works to create balance, it supports students' need to lead healthy lifestyles. The presence of a garden bar allows students to eat fresh produce that helps fuel their day and their physical education activities. For several years, a yoga instructor has worked with teachers on how to embed mindfulness activities throughout the school day. Each classroom has a calming corner with sensory tools, fidgets, and more.
Bellerive provides resources to families for health services as well. In partnering with Give Kids A Smile, the school is able to provide free oral healthcare to students in need to help develop early health habits, which are essential to lifelong healthy living.
Through grade level service projects, students learn about needs in the community and work to problem solve ways to support and address those needs. Each grade level organizes, plans, and implements a service project. Several of the service projects work to reduce waste and educate others about the importance of recycling and composting anything that can't be reused.
As a culminating service project, Bellerive worked to collect and upcycle used school supplies at the end of the school year. The school community donated thousands of supplies to students in Zambia, who have less access to resources. The students peeled broken crayons to be melted down to make new crayons, pencils were sharpened and used note pages were recycled to make notebooks like new. Kids learned they can help make a difference not only in the local community but also in the world.