Return to Headlines
Five Parkway students ace the ACT exam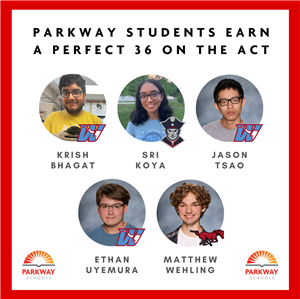 7/13/2023 -- Krish Bhagat, West High; Sri Koya, South High; Jason Tsao, West High; Ethan Uyemura, West High and Matthew Wehling, Central High, scored a 36 -- the highest possible score -- on the ACT college admissions and placement exam. The students took the test in April.
Bhagat is unsure where he'll attend university but wants to study business/entrepreneurship and creative writing. He is an active speech and debater and is currently a captain on the team. He loves birds and volunteers at Wild Bird Rehabilitation. He likes writing short stories, mixing live DJ sets, and creating digital content for small businesses/nonprofits.
Koya is interested in studying medicine in college and will be in Parkway's Spark! Pre-Professional Health Sciences program in the fall to learn more about the field. She has played tennis throughout high school. In addition, she is involved in a school club called GlamourGals. Students visit senior homes to paint nails for the elderly and she loves being able to connect with and spending time with them.
Tsao doesn't know where he'll attend university but will likely study computer science. His favorite subject in school is science, and in his free time, he enjoys playing chess.
Uyemura is still looking at his options for college but wants to study psychology. He is thinking about being a clinical psychologist. His hobbies are playing the violin, watching the NBA, listening to music and playing video games. Uyemura's favorite class is Latin because he enjoys learning about the language and the culture that surrounds it.
Wehling is not sure where he wants to go to university but his top pics are all on the East Coast and he wants to study political science or marketing. He wants to work as a campaign manager or in the political sector. He is in the speech and debate program at Parkway Central and serves in student government.
Nationally, while the actual number of students earning the top score varies from year to year, on average about one-quarter of 1% of students who take the ACT earn a top score. In the U.S. high school graduating class of 2022, only 3,376 out of nearly 1.34 million students who took the ACT earned a composite score of 36.
The ACT consists of tests in English, mathematics, reading and science, each scored on a scale of 1–36. A student's composite score is the average of the four test scores. The score for ACT's optional writing test is reported separately and is not included within the ACT composite score.
The ACT is a curriculum-based achievement exam that measures what students have learned in school. Students who earn a 36 composite score have likely mastered all of the skills and knowledge they will need to succeed in first-year college courses in the core subject areas.
ACT scores are accepted by all major four-year colleges and universities across the U.S.