Return to Headlines
Eight Parkway schools receive 2019 Promising Practice awards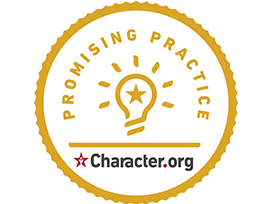 5/21/2019 -- Eight Parkway schools received Promising Practice awards from Character.org. Character.org awarded 400 Promising Practices to schools, districts and youth-serving organizations from across the United States – as well as from China and Mexico.
To receive a Promising Practice award, schools must demonstrate how they put one or more of the 11 Principles of Character Education into action.

The schools and their Promising Practices are listed below.
Barretts Elementary
Abilities Awareness Day
Students learn about the abilities of others and become advocates for themselves and peers.
Central Middle
WIN (What I Need) Time
Students take ownership of learning through the opportunity to explore their own interests.
Green Trails Elementary
Green Trails Crew
Students use their passions to serve others in multi-age, interest-based communities centered on service and leadership.
Highcroft Ridge Elementary
Ecobuds
Students initiate the opportunity to lead their community to take moral action to better the environment.
McKelvey Elementary
Leadership Academy
Leadership Academy empowers students by offering summer school options centered around character education and leadership.
Pierremont Elementary
Pierremont Student Leadership
Student leadership initiative that engages students in meaningful, service-based roles such as Panther Patrol, Bus Buddies and student tutor/mentoring pairings.
River Bend Elementary
Kindness Crew
Each month, students who are members of "The Kindness Crew" plan Kindness Missions that are incorporated school-wide.
South High
Teen Voice for Change
Student leaders address youth vaping by educating teachers, students, parents and community members.
Each year, Character.org and its state affiliates select schools and districts that demonstrate a dedicated focus on character development programs and a positive impact on academic achievement, student behavior, school climate and their communities. Through an in-depth and rigorous evaluation process, these schools and district were found to be exemplary models of character development. Criteria for selection are based on Character.org's 11 Principles of Effective Character Education, a framework to assist schools in providing students with opportunities for moral action, fostering shared leadership and engaging families and communities as partners in the character-building effort.