Return to Headlines
Update on the 2020-21 calendar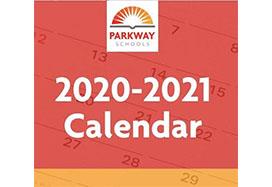 9/20/2019 -- As we shared last month, there is a new state law that impacts school calendars and prevents schools from starting more than 14 days before the first Monday in September. The law takes effect in the 2020-21 school year and the earliest date school can begin in 2020 is August 24. The new law means Parkway needs to revise its 2020-21 academic calendar.

The 2020-21 calendar will go to the school board for review and approval at its next meeting on September 25. See the draft calendar here.

We asked for your thoughts on a proposed revision to our calendar, based on the new law. Here's a link to the results of the exchange and all of the thoughts and comments you shared.

Here are some of the top themes we heard:

A top comment was to complete high school finals before winter break. As we previously shared, we prefer this scenario as well. However, the way to accomplish this is to have two very unbalanced semesters. Because of the later start in August, the first semester would be much shorter in order to complete finals before the break. We feel this is unfair to students. If you are taking a course during the first semester you would have far less time to learn and master the curriculum. We will continue to watch this closely and evaluate the impact of finals and winter break for future years.
Over 40 percent of the total comments said that you like the later start date in August and like the proposed calendar, given the circumstances and new law.
There were many thoughts about how other districts in the area are planning to adjust calendars. We have reviewed all of the draft calendar plans for all districts in the St. Louis area and superintendents have met to discuss plans. Many of our neighboring districts have very similar plans for the 2020-21 calendar, including Rockwood.
Most prefer to have snow days built into the calendar and made up during the school year. We are pleased that our proposed calendar includes 36 hours of makeup snow time (a little over five built-in snow days). Possible snow makeup time that might be needed is Friday, March 19, 2021 or some hours where students are already attending (half days, early release days indicated on the calendar). By making up the time as we go, the goal is for the last day of school to be on June 3.
Things to keep in mind calendar:
Even with a later start date in August, the state still requires students to attend the same amount of time (hours) as before.
The state requires school districts to attend a minimum of 1,044 hours of school each year. Parkway typically attends about 1,080 hours. This allows us to ensure students can master the curriculum, but it also allows us to have some snow days built into the calendar that we do not have to makeup.
Our current teacher contract requires us to schedule days off school for grading at the end of each trimester and semester, as well as designated paid holidays off and some professional development days. We agree that this is important time given to our teachers.