Return to Headlines
Parkway receives Business Health Culture Award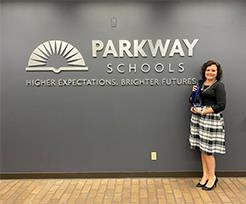 11/25/2019 -- Parkway Schools received the Business Health Culture Award from the St Louis Area Business Health Coalition. With over 2,500 employees serving more than 17,000 students, the district is one of only six employers to be recognized with the annual distinction.
"As a BHC member and local employer, Parkway Schools has consistently demonstrated itself as a leader in advancing well-being in the workplace and in our community," explained Louise Probst, executive director of the St. Louis Area Business Health Coalition. "Through its holistic educational programming, benefits, and policies, Parkway Schools is supporting the physical, mental, emotional, financial and social factors that impact health and happiness on a daily basis."
Created in 2014 by employers of the BHC's Wellness Roundtable, the Business Health Culture Award recognizes organizations for their innovative and comprehensive approaches to improving the well-being of employees and their family members. The award application was modeled with careful consideration of best practices in the corporate wellness field, as defined by national research organizations, academia, and the employer sector.
"We are proud to receive this honor and recognition, but we are more proud of our employees, who are role models for our students every day," said Keith Marty, superintendent, Parkway Schools. "Our first priority is to take care of children, and we know that we cannot be successful unless our teachers and staff are also healthy and well. Our employees are our most valuable resource, so we remain committed to investing in their well-being, professionally and personally, in order to retain the most qualified and caring people to support our students."
To learn more about the award process and resources to support employee and community health, please visit www.stlbhc.org/page/WorkplaceWell-being.
About the St. Louis Area Business Health Coalition
The St. Louis Area Business Health Coalition (BHC) is a nonprofit organization representing over 70 leading employers, which provide health benefits to thousands of lives locally and millions nationally. For 37 years, the BHC has worked to achieve its mission of supporting employer efforts to improve the well-being of their employees and enhance the quality and overall value of their investments in health benefits. To accomplish these aims, the BHC centers its work on providing pertinent research, resources, and educational opportunities to help employers understand best practices for the strategic design (and informed use) of benefits to facilitate high-quality, affordable health care. To learn more, visit www.stlbhc.org or follow the BHC on Twitter and LinkedIn.