Return to Headlines
Update on middle and high school in person classes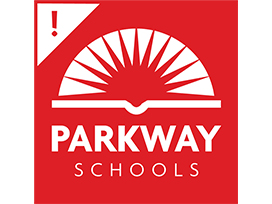 11/19/2020 -- The below letter from Superintendent Keith Marty was sent to Parkway families.
-----------------------------------------------------------------------
Dear Parkway Parents, Staff and Students:

As we shared yesterday, the Board of Education considered a recommendation at its meeting tonight and approved changes to learning schedules for the remainder of the first semester, which ends January 15. You can watch the meeting from tonight online here. The new schedules include:
Elementary students in grades K-5 will continue the blended schedule through the end of the semester. See the Elementary School In-Person Calendar here. Distance learning days have been added around the upcoming holiday breaks to limit the spread of illness. Distance learning days are the three days after Thanksgiving (November 30-December 2); and before and after winter break (December 21-22 and January 5-6).
We will continue to practice health and safety precautions at school and if at any time we reach critical illness or staffing levels, we may need to close an elementary school or schools for a period of time until the situation improves.
Middle and high school students in grades 6-12 will return to distance learning full-time starting November 30 through the remainder of the first semester. Students will learn online with their current teachers five days a week using their current school schedule. You will receive more information about schedules from your school.


Virtual Campus students will continue with their daily schedule for the remainder of the first semester.


Parkway Early Childhood students will continue on their current schedule with the same distance learning days as our elementary schools as outlined above.
This decision will allow us to prioritize our staffing resources for our youngest learners who are less equipped to manage virtual learning until the health of our community improves. We will provide a full time in-person option for all students as soon as possible.
We know that this year has been difficult for everyone and there have been many changes to navigate. I continue to hear our teachers have been a bright light during this time. If you would like to send someone a quick note of gratitude, here is a digital thank you card.

We are disappointed to make this decision and regret the challenges it creates for our students, families and staff. I hope we are nearing the end. I can see the day where we all look back on this time and say it was a difficult time and we are more grateful for one another today.

Sincerely,

Dr. Marty
Superintendent