Return to Headlines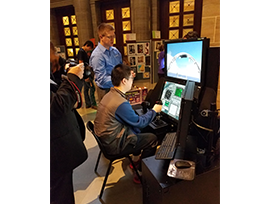 3/16/2017 -- A group elementary, middle and high school students attended the annual STEM (science, technology, engineering and mathematics) Day at the Capitol in Jefferson City on March 2. Students from across the state showcased their STEM programs, projects and past/current work.
The students and had the chance to share their love and excitement for STEM with Missouri State Legislators. In addition, educators were able to demonstrate the impact that STEM has on student achievement with the hope that Missouri will invest more in curriculum, program support and professional development
Students enjoyed the opportunity to network with legislators and other key STEM educators and program directors.