Return to Headlines
West High's Debra Klevens named National High School Journalism Teacher of the Year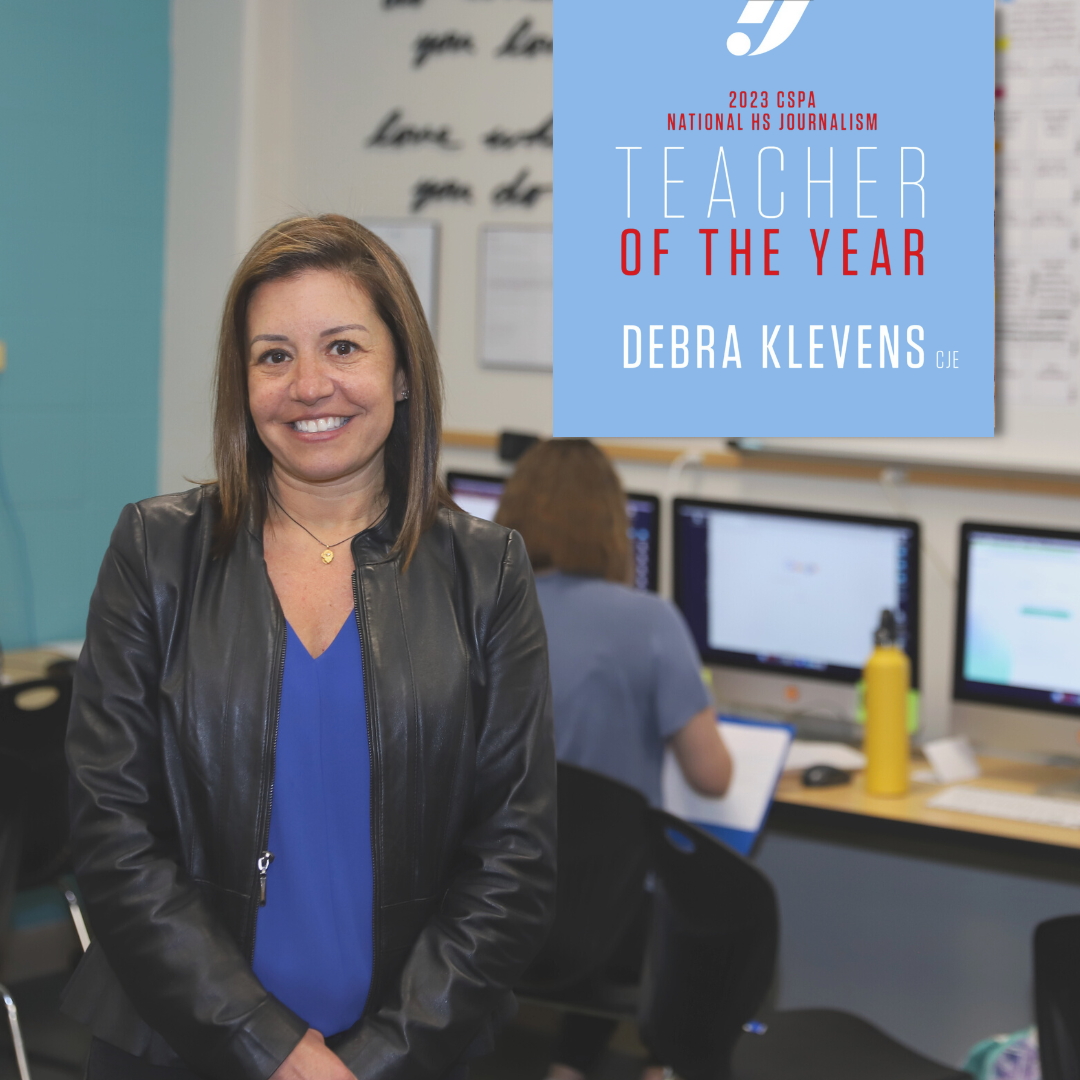 3/7/2023 -- The Columbia Scholastic Press Association (CSPA) announced that Debra Klevens, West High English teacher and publications adviser was named the 2023 National High School Journalism Teacher of the Year. Klevens was selected from among 11 teachers nationally.
The awards will be presented at the CSPA Spring Convention at Columbia University in New York City on March 16.
Klevens explained how she merged two publications, the PAWESEHI yearbook and Pathfinder newspaper into a Convergence Media program to replicate industry trends.
"As a result, my classroom could appear to be a Starbucks drive-through to the outside world. Students take my class whenever it fits their schedule—with Levels 2-4 all in the classroom at any given hour."
More than 130 students are enrolled in Parkway's Convergence Media program.
As Erinn Harris, the CSPA 2020 Teacher of the Year, explained, "To run a truly converged media program requires logic and organization that I honestly do not possess. I have never been able to wrap my brain around how to make it work. What classes do kids sign up for? How does communication work? How do deadlines work? How does anything work? Do you know who has the answer to those questions? Debra Klevens. Her brain works in ways mine never could. She sees solutions to problems and ways to implement innovative ideas. It's just who she is."
Klevens views her role in the classroom as being a coach who empowers students to push beyond their wildest expectations. She said, "They are often surprised at the success they find in my classroom. They don't realize what they are capable of because for many of them this is the first time they feel believed in by someone."
A program feature is the "Speaker Mondays" series. Each seminar highlights professional journalists who share their journey. Klevens said, "My goal is to show students how their skills are transferable in the real world."
Parkway West High School Principal John McCabe wrote, "There is no doubt that the students take their responsibilities as journalists very seriously. They know that facts are facts and they can publish true information—even when it may not sit well with everyone. But the deep thinking and thoughtful conversations they have in making these complex decisions represent real-world learning at its finest. I respect their training and the approach they take to planning coverage that includes and represents the many faces, voices and interests of the entire school community."
Abby Narishkin, senior producer at Business Insider and graduate of the Parkway West program, wrote, "Her pride for her kids, current and former, was palpable and radiant. It's a glow that represents the passion that Debra Klevens pours into each student. For Debra, the kids of Parkway West High aren't just passing through the halls. They're each, in their own way, a permanent installation in her heart. I hope to continue living my life as an extension of Debra Klevens. I hope to choose passion and purpose every single day, just like she does, leaning on the communication and people skills learned inside her walls. She began my precious journey of self-discovery and, as I keep growing, I only hope I can become half of the inspiration for future journalists that she is for her students."
About Columbia Scholastic Press Association (CSPA)
CSPA is an international student press association, founded in 1925, whose goal is to unite student journalists and faculty advisers at schools and colleges through educational conferences, idea exchanges, textbooks, critiques and award programs.