Return to Headlines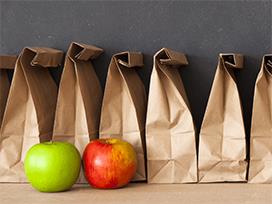 6/10/2020 -- Daily meals are provided to students as a means to replace meals that would have been received at school.
Families can pick up five days of meals including breakfast and lunch each Wednesday at one of three locations in our community.
These grab and go meals will be available for curbside pickup at Fern Ridge, South High, and Park Meadow Apartments. Please complete the below meal pickup form to request meals.
Meals for the week of July 20 (July 22 pickup)
Meals for the week of July 27 (July 29 pickup)
Parkway and the Voluntary Interdistrict Choice Corporation have partnered with St. Louis Public Schools to offer free meals to Parkway students who reside in the city of St. Louis. Please click here for more information. In addition, a list of regional food sites can be found here.

Meals Benefit from the State of Missouri (updated May 20)
Under the Families First Coronavirus Response Act of 2020, families that qualify for free or reduced-price meals at school may be eligible for a new one-time Pandemic Electronic Benefits Transfer (P-EBT) of up to $302 per child (Pre-Kindergarten – Grade 12) to help cover the cost of meals students have eaten at home on days that schools have been closed. Students can receive P-EBT benefits even if they have been or continue to receive meals provided by the school district during the school closure. If your child was not previously eligible for free or reduced-price meals, but you have now lost income, you may be eligible to receive P-EBT benefits (review the P-EBT Eligibility Criteria document below).
The benefit is placed on an Electronic Benefit Transfer (EBT) card families use to buy food. If you received Food Stamp (SNAP) benefits in March, do not apply for these new/additional benefits. The full $302 will automatically be loaded to your existing EBT card. If you did not receive Food Stamp (SNAP) benefits in March, you must apply for this benefit by June 30, 2020 (see below).

The most efficient way to apply is to submit your application online at EmergencyMealSurvey.com/MO. You will also likely experience a faster approval process. If you're not able to apply online, you can follow the link below to the paper application. The fillable PDF document can then be emailed or mailed to the Department of Elementary and Secondary Education (DESE). You will find complete instructions and additional details in the letter to families below.
Please review these important documents carefully:
To prefer to have a paper application be mailed to you, please contact our Food and Nutrition Services office - Lisa Tindle at 314-415-8245. Please do not send completed applications to your school; see the letter to families above for application submission information.

The Department of Social Services (DSS) will send families a letter indicating they are approved or denied. If you have questions on how to apply for the P-EBT benefit, contact DSS through the online chat feature at mydss.mo.gov or call 855-373-4636. For more information on the EBT card, visit: mydss.mo.gov/food-assistance/ebt.
If you need assistance with a paper application, please contact Marlene Pfeiffer (314) 415-8248 or mpfieffer@parkwayschools.net.