Parkway Virtual Campus for Elementary Students

Parkway is pleased to offer the option for a fully virtual learning opportunity for elementary students through Parkway Virtual Campus.

Virtual Campus is a stand alone school where students should expect to have students from across other Parkway schools in their classes. Teachers are exceptional Parkway staff dedicated to students' online learning and may have previously taught in any of Parkway's elementary schools.

While an online option may be the right choice for your family, please know students in grades K-3 students are still developing as learners. Parents/guardians may, at times, need to assist with the learning process (re-reading text, submitting independent assignments, navigating technology, etc.) to support their child's learning goals. For this reason, Parkway strongly encourages students in the early grades--especially K-1 students--to select an in-person experience.

Parkway Virtual Campus will have dedicated administrative and counseling services so you can always know who to reach out to when in need of support.

---
The Elementary Virtual Campus students will follow the same daily schedule as the 2020-2021 school year.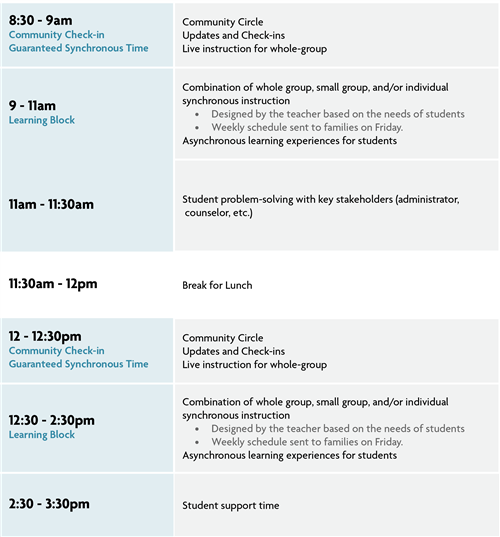 Attendance for Parkway Virtual Campus will be taken daily and students are expected to attend all scheduled class sessions and teacher requested help sessions.
Student Role
Set up and follow a daily routine and schedule to participate in class and complete out of class activities.

Access your Schoology course daily and participate in video conference meetings of the class. Learning activities will be within or linked from your Schoology course.

Review the recordings of any lessons as needed.

As Virtual Campus moves from being a pandemic response to a learning preference for families, our expectations for students having cameras on will increase.  Beginning next school year, having cameras on is

required

except by approval of parent, teacher, and principal. 

Be ready to participate in on and offline activities and assessments.
Parent/Guardian Role
Be prepared to support your student in their classwork as needed.

Assist your student in accessing video conference meetings with their teacher.

Set up a daily routine and schedule with your student to stay on track with classwork.

Provide hands on support to your students to assist developing readers (read texts, submit assignments, help with technology, etc.).

Communicate with the teacher regularly.
Teacher Role
Deliver high quality and age-appropriate lessons that follow the Parkway curriculum.

Provide timely and specific feedback to both students and parents about a student's progress.

Record and post direct instruction for students to review or for those who may have technical issues.

Be responsive to student needs in support of their individual growth.

Communicate regularly with parents/guardians.
Successful Parkway Virtual Campus students will:
Develop a routine that allows students to attend class, complete assignments on time and progress in their learning.

Follow guidance and expectations from teachers and advocate for themselves when they need additional support.

Have positive interactions through online learning through a supportive home and school partnership.

Note: during the pandemic some students spent extended time outside the district and were allowed to remain enrolled. In 2021-22, if a student leaves the district for 10 or more consecutive days they will be unenrolled per Parkway policy.
Parent University Are you interested in learning more about the online platforms that Parkway is using with students during distance and virtual learning?
Parent University is a course created in Schoology, our district Learning Management System, that has information about Schoology, Google for Education, videoconferencing, and digital citizenship. Within the course you will find information that will help you understand the tools students use as well as opportunities for you to experience the tools from the student perspective. The goal of the course is to support you in feeling confident that you can help your child(ren) with online learning in Parkway. While you are welcome to explore the materials in any order, it would be beneficial to work through the Schoology folder first to learn how to interact with tools you will encounter in other folders. Follow these directions to enroll in the Parkway Parent University Schoology Course! Be sure to scroll down to page 2.
Parent U for Schoology
---
Video Resources
This YouTube playlist provides families and students with learning videos from toggling between tabs, creating a perfect learning environment in your home, and supporting your child at home.
YouTube Playlist
---
Digital Citizenship
Digital citizenship refers to the responsible use of technology by anyone who uses a computer, the Internet, and digital devices to engage with society on any level. As school moves online, teaching digital citizenship has never been more important.
Here are some resources
to help model and help your child to be a good online citizen.
---
Parent Resources for Learning at Home
This site consists of detailed explanations of different features and tools, along with step-by-step walkthroughs.
Resource Site
---
Parkway Technology Help Desk
Use
this website
to find information on how to resolve quick and simple technical issues.