---
Golf with your Parkway friends at Bear Creek in June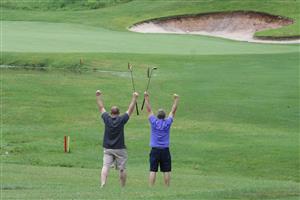 Don't miss the PAA's annual golf tournament on Fri., June 16! Play 18 holes on this beautiful course with your friends from the Parkway community.
Registration and lunch begin at noon, with a shot-gun start at 1 p.m. A silent auction and dinner will be featured after the tourney.
Many levels of sponsorship are available, from $200-$5,000. Dave Worley [West '71] of Educator Pension Resources again will sponsor a hole worth $25K to the first person who sinks a hole-in-one in it (it happened in 2015)!
>>Click here for registration and sponsorship information.
>>Click here to donate prizes for the tournament via our registry at Target!