---
Why donate to the PAA in December?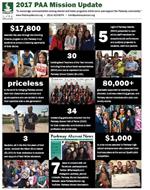 If this question has crossed your mind, please have a look at the 2017 PAA Mission Update! We want you to know how your donations are used and the many ways we serve and support Parkway alumni, students, staff and the community.
All our programs are supported entirely by donors - we are a 501(c)(3) nonprofit organization that is separate from the school district. All donations are tax deductible as allowed by law (and we'll mail you a receipt).
Our Annual Giving Campaign is underway during the month of December - please consider sending a donation to the PAA so we can continue to provide the programs that help us fulfill the PAA mission. If you'd like to be a matching donor during this campaign, please let us know and we'll get the message out on social media!

Ready to be a PAA supporter? Click the Donate button below. If you'd rather mail a check, please send it to Parkway Alumni Association, 455 N. Woods Mill Rd., Chesterfield, MO, 63017. Thank you!