HOF 2022 Celebration Scheduled

---

The next induction of Parkway alumni into the Parkway Alumni Hall of Fame will take place on November 12, 2022, at the Sheraton Westport Chalet Hotel in St. Louis. Tickets are on sale now. Register to attend, make an honorary gift or be a sponsor by clicking on the appropriate box below.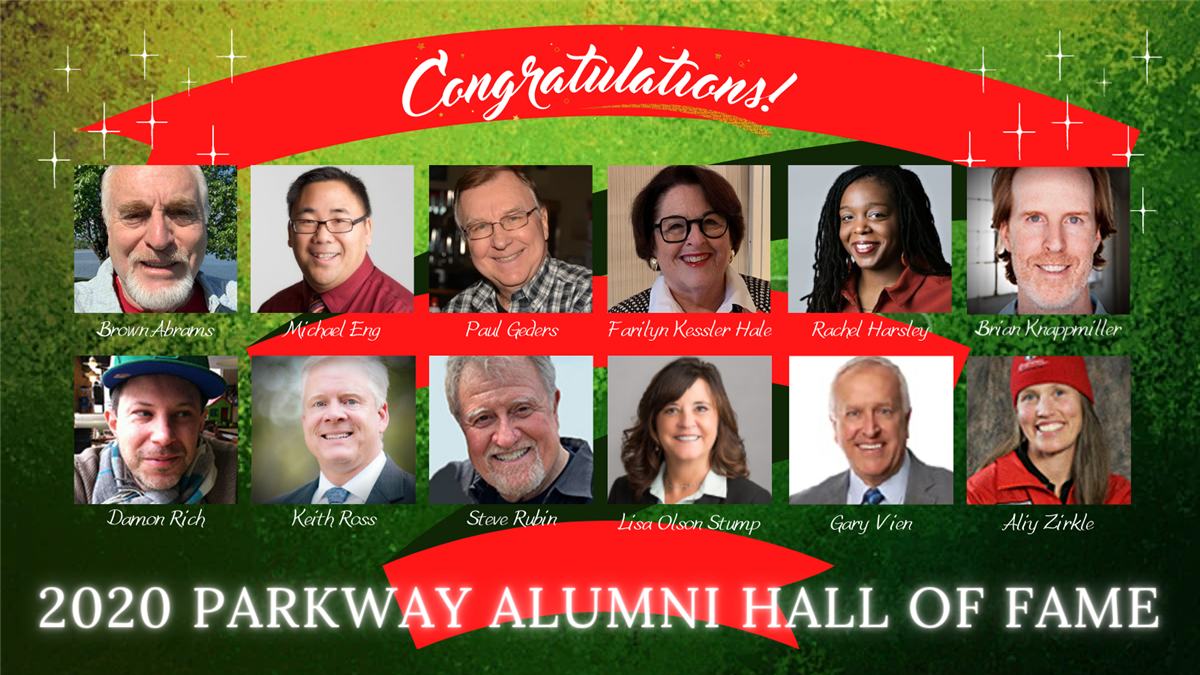 Brown Abrams - Parkway High School, 1965

Brown Abrams is the retired founder/owner of FiberLok Inc. and High Voltage Graphics, started in St. Louis (1979) then relocated to Fort Collins, Colorado (1992). Brown invented, developed, patented, manufactured and licensed a unique range of dimensional graphics products and technologies. Prior to these inventions there were two basic ways to apply graphics onto surfaces like textiles: stitching (embroidery) or printing with inks. Brown's inventions are "multicolor direct electrostatic flocked heat transfer graphics" which created an entirely new category of imprinted products. Primary markets included sports (FA Premier League football/soccer in the UK, NFL team and Super Bowl), gifts (Metropolitan Museum of Art) including the 'famous computer MouseRug', law enforcement badges (Homeland Security, police) and school uniforms. Visit https://www.coloradoan.com/story/money/2019/05/31/fort-collins-manufacturer-super-bowl-patches-fiberlok-sold-new-local-owner/1289585001/ to read more.
Michael Eng - West High School, 1996

Michael Eng is the editor and publisher of the West Orange Times & Observer, the Southwest Orange Observer, Baldwin Park Living magazine and all the accompanying websites and social media channels. He is the youngest publisher in the history of the Observer Media Group, a family-owned and operated chain of community weekly newspapers in the Sunshine State. He has won numerous awards from the Florida Press Association, Florida Press Club and Local Media Association (LMA) for writing, photography, design and overall excellence. The poignant stories he covers - sometimes uplifting, sometimes tragic - are often about the people who live in the Windermere, Florida, community.
Paul F. Geders - Parkway High School, 1961

Paul Geders' love of aviation began when he was seven, carving wooden model airplanes. His hobby eventually led to a career of constructing more sophisticated, high-performance radio-controlled models. After high school and some college courses, he accepted a job at McDonnell Aircraft Co. (eventually Boeing), starting in the tube and cable shop. He enrolled in the company's Voluntary Improvement Program and took numerous courses for the next 34 years. He eventually became a highly respected supportability engineer and a specialized team member of Boeing's Phantom Works. One of his responsibilities led to the development of the Scaled Systems Shop and the piloting and construction of radio controlled model aircraft as prototypes for full-scale vehicles. During his 48-year career, he has been granted six patents and earned many honors and awards for achievements in excellence and innovation. Since 1957, he has been an active leader member and contest director for the Academy of Model Aeronautics. He also has been president and held other leadership positions in the McDonnell Douglas Radio Control Model Airplane Club and the Spirits of St. Louis R/C Flying Club. Geders lives in Florissant, Missouri.
Farilyn Kessler Hale - Central High School, 1971

As an advocate devoted to social justice causes, Farilyn Kessler Hale has helped bring many projects to fruition and built a legacy of service. She has been instrumental in many capacities as a member, board member and president of the National Council of Jewish Women-St. Louis, a grassroots, volunteer-driven organization that strives for social justice by improving the lives of women, children and families through community service, advocacy, education and philanthropy. In 2003 and 2006, she chaired the NCJW National Benchmark Campaign, which highlights the importance of judicial nominations and access to courts. She also has co-chaired the Back-To­-School! store, and NCJW program which outfits underserved children with clothing, supplies and confidence. She says her proudest moment was in 2011, when NCJW purchased its current building at 295 N. Lindbergh in Creve Coeur and now houses The Resale Shop and Non-Profit Offices of the organization. She has been honored by NCJW with many awards for her service and the programs that continue to benefit the St. Louis community.
Rachel Harsley - West High School, 2007

Rachel Harsley is the first African-American woman to earn a Ph.D. from the University of Illinois at Chicago in computer science. She was inspired to think about pursuing a post-graduate degree while studying at Vanderbilt, where she attended chapter meetings of the National Society of Black Engineers (NSBE). She enjoys technical challenges and has made significant contributions to several major corporations while employed or doing internships. To support programs that improve diversity in the tech industry, she contributes to online software programming resources, developed the ChiQat tutor application, and taught at Spelman College for a semester with the Google in Residence Program. She is employed by Google while living in St. Louis.
Brian Knappmiller - South High School, 1994

Shortly after earning his degree in film production from the University of Southern California's School of Cinematic Arts, Brian Knappmiller began making his mark in the entertainment industry as a writer, director and executive producer. He has produced or executive-produced numerous commercials, a variety of Emmy-nominated shows (e.g., Monster House and Deadliest Catch), and most recently two shows with rapper/actor Ice-T, including In Ice Cold Blood. His curiosity about other people led him to become embedded with a motorcycle gang, firefighters and police forces, and to live in a Mennonite village just south of the Arctic Circle. His passion project for the past 10 years has been Scarred for Life, a collaboration with artist Ted Meyer, where he produces videos (pro bono) about people who have emotional or physical scars from a traumatic event. They recently collaborated with the American Cancer Society and are in the early stages of a series that features women of India who are victims of acid attacks. In addition to his career in the arts, he is a co-founder and co-owner of the St. Louis-based craft distillery, Naked Spirits.


Damon Rich - Central High School, 1993

Damon Rich is a designer and partner at HECTOR, an urban design, planning, and civic arts practice. Recent projects include a park in one of Philadelphia's most diverse neighborhoods, a housing crisis learning center at the Queens Museum, and a memorial for eco-feminist Sister Carol Johnston. His designs have been exhibited at Yerba Buena Center for the Arts, the Museum of Modern Art, Canadian Centre for Architecture, and represented the United States at the 11th International Architecture Exhibition in Venice. He has served as planning director for Newark, New Jersey; chief of staff for capital projects at New York City Parks & Recreation; and founder of the Center for Urban Pedagogy (CUP), a nonprofit organization that uses art and design to increase meaningful civic engagement. Rich's work has been recognized by the MacArthur Fellowship, Cooper Hewitt National Design Award, MacDowell Fellowship, American Planning Association National Planning Award, Loeb Fellowship, and MIT Center for Advanced Visual Studies. When he's not listening to old KSHE 95 and MAJIC 108 cassettes, Zooming with loved ones or reminiscing about Parkway days with Ms. Crock, Mr. Jobst, Mr. Rogers and others, you can find him eating toasted ravioli with Universal Conspiracy and EMO friends in the 7-Eleven parking lot at Woods Mill and Olive.
Keith Ross - North High School, 1981

During his 29-year tenure at Missouri Baptist University, Keith Ross, Ed.D., has been a catalyst in making the institution one of the best Christian Universities in the Midwest. Since becoming president of the institution in 2018, he has collaborated with university administrators to foster a campus culture that provides employees with professional development opportunities, promotes a positive work environment and a healthy lifestyle. These initiatives contributed to MBU being named Top Work Places by the St. Louis Post Dispatch for the past seven years. He is a member of the executive leadership team that oversaw the university's budget grow from $19 million in 2006 to $50 million in 2017 and increased total student enrollment from 4,460 to 5,600. He also led the university's fundraising efforts for the renovation of the Jung-Kellogg library as well as the Spartan Athletic Field. On the academic side, he collaborated with senior academic administrators to gain approval for new undergraduate and graduate programs, including those for a bachelor of science degree in nursing and a master's degree in social work.

Stephen Rubin - Parkway High School, 1967

Steve Rubin worked for more than 40 years in executive management and advanced technology markets. Beginning with McDonnell Douglas, he was instrumental in the launch of the company's first commercial entry into the CAD/CAM marketplace. He next moved to Gerber Scientific, where he was promoted to director of the central region and oversaw the construction of six sales offices for Gerber and Unisys. In 1989, Rubin launched Rubicon Services, a technology company that spawned two additional small companies. After returning to St. Louis from Chicago, he worked with several major St. Louis corporations, including Anheuser-Busch, McDonnell Douglas/Boeing, Southwestern Bell/ATT, Enterprise and Emerson Electric, assisting them with talent acquisition and partnering programs. In the final third of his career, he was fully devoted to identifying, hiring and developing key personnel to serve on training teams for Boeing Aircraft that included F-15 and F/A-18 aircraft, P-8A defense/search and rescue, and Chinook helicopter platforms. These remain vibrant aircraft programs that are critical to world peace.
Lisa Olson Stump - West High School, 1982

At Lashly & Baer, P.C., in St. Louis, Lisa Stump is one of Missouri's most distinguished lawyers, focusing on governmental and public institution law. In February 2018, she became the first female president in the 106-year history of the law firm. She has represented the Bi-State Development Agency, City of Crestwood, Ferguson-Florissant School District, Rockwood School District, St. Louis County Library and St. Louis Public Library, among others. In addition to her work with public agencies, she advises education clients on ethics, student discipline, special education, access to student records, religion in schools, sexual harassment, bullying and issues related to internet use by students. Stump also has served in leadership positions at Bonhomme Presbyterian Church and made several trips to volunteer at an orphanage for girls and young women in Honduras. In 2019, she was honored as a YWCA Metro St. Louis Leader of Distinction and received the Women's Justice Award by Missouri Lawyers Media.
Gary Vien - North High School, 1975

With more than 44 years of human resources and development experience, Gary Vien is the chief administrative officer of Suncoast Credit Union in Tampa, Florida. Vien has a drive for cooperative success and believes there is good in everyone and in all things. When he began his career (as a pretzel twister) with Six Flags Corporation in 1973, Vien absorbed everything he could about human behavior and the role it plays in leading well-run organizations. He eventually became the company's corporate director of human resources for St. Louis, Houston, Los Angeles and Parsippany. He moved to Tampa in 1998 and served in the same capacity at Busch Gardens for Anheuser-Busch – SeaWorld Parks and Entertainment. Vien joined Suncoast Credit Union in 2011 as a senior vice president of human resources and development and now serves as the organization's chief administrative officer. He also is responsible for overseeing the Suncoast Credit Union Foundation, the Community Impact team and facilities. Passionate about education and development in the community, he is director emeritus and past board chair of the Hillsborough Community College Foundation and is Credit Union Legislative Action Committee Trustee for the State of Florida, and finance chair of the Greater Tampa Chamber of Commerce. Additionally, Vien has held board positions for the Six Flags Employees Federal Credit Union in California. His book, Lead or Get Out of the Way! Eight Powerful Principles to Take Your Leadership to the Next Level, was self-published on Amazon in January 2020.
Aliy Zirkle - West High School, 1988 (to be inducted 2024)

Aliy Zirkle has earned elite status among the select cadre of dog sled mushers on the Alaskan race circuit where snow, low temperatures and challenging terrain can test even the most durable dogs and humans. After graduating from the University of Pennsylvania, where she studied biology and anthropology, Zirkle accepted a summer job with the U.S. Fish and Wildlife Service in Bettles, Alaska, a small town 50 miles north of the Arctic Circle. After deciding to stay in Alaska, she adopted her first husky dog ("Skunk") and began learning about the sport of mushing. She gained experience by participating in local races, then entered her first Yukon Quest (1,000 miles between Whitehorse, Yukon, and Fairbanks, Alaska) in 1998 and first Iditarod (975 miles between Nome and Anchorage, Alaska) in 2001. She became the first woman to win the Yukon Quest in 2000, and has been second runner up in the Iditarod three times (in 2020, she was in the top five). She has received numerous awards from peers in her sport throughout her career, including the Yukon Quest Challenge of the North Award and the Iditarod Leonhard Seppala Humanitarian Award for exemplary care of her dogs. In addition to competitive racing, she and her husband, Allen Moore, run Skunk's Place (SP) Kennel in Two Rivers, Alaska, where they breed husky dogs. She also spends her spare time in community service, where she travels to villages on the Western Coast, speaking to students about leadership and responsibility.