Return to Headlines
Central Middle and Early Childhood named 2018 National Schools of Character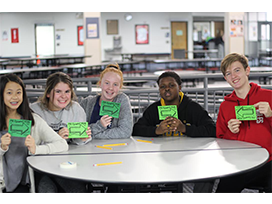 5/18/2018 -- Today, Central Middle School and Early Childhood were named 2018 National Schools of Character!

In addition, Ross Elementary was renewed as a National School of Character! Ross was the first Parkway school to receive the award in 2012.

Parkway now has 11 National Schools of Character including Carman Trails Elementary, Green Trails Elementary, Oak Brook Elementary, McKelvey Elementary, Craig Elementary, Barretts Elementary, Northeast Middle and Southwest Middle. Last year, Parkway was named a School District of Character.

Highlights of the Central Middle National School of Character recognition include:
A long-standing tradition at Central Middle is the annual Achievement Forest unveiling ceremony. Faculty and staff nominate students to be on the yearly tree for a variety of reasons connected to exhibiting good character. Students do not apply, try out, or achieve this designation on their own. Being a recipient of the Achievement Forest is a coveted spot, but it is a complete surprise, and therefore students exhibit these good character traits without prior knowledge of being extrinsically rewarded.

One way Central Middle unites its goals is to develop a yearlong theme to guide work. The theme of Pay It Forward connects our individual core values to a larger caring-based framework. School-wide initiatives including Family Groups, What I Need (WIN), and Where Everybody Belongs (WEB) promote both the social and academic applications of PCMS core values. Each Family Group is a small, multi-age group of students who meet bi-monthly with their Family Group teacher.

Students and staff at PCMS continued with our year-long theme by writing Pay It Forward cards. First, they identified someone in the building who had displayed a core value. Once students had written a card, they delivered the card and hung it on the recipient's locker. This recognition of kindness, acceptance, integrity, accountability, and perseverance brought out the best in PCMS.

At PCMS, students and staff take a stand! During our "I stand for..." lesson, students and staff chose a word or phrase that stood out to them and became a guiding force for the school year. We reflected upon what they valued most and then customized a t-shirt with an "I stand for" statement. We "stood for" ideas such as honesty, empathy, pride, family, peace, diversity, and kindness. Connections were created and conversations were sparked between Family Group members.

Students at PCMS have the opportunity to participate in United Sound. Peer mentors build personal and community relationships through making music in band, with mentally or physically disabled students. These students often do not have the chance to interact in a school-wide setting or have the opportunity to play an instrument in a band. Peer mentors help SSD students to read rhythms, hold, or play the instrument.
Highlights of the Early Childhood National School of Character recognition include:
Early Childhood narrowed its core values to four Parker's Promises: Take care of myself, Take care of each other, Take care of my school and home, and Take care of my world. Students, families and staff voted and Parker the Panda became the school mascot, a symbol of character values. A Parker's Promise school song includes each core value.

Children show their connection with other students through a "Wish you well" routine when a student in missing. When a student returns back to school there is a "Back to school" routine that allows students to take care of each other. Classrooms and families implement "I love you rituals" which provide opportunities for eye contact, touch and nurturing connection between students and families, students and staff and students and peers.

Early Childhood uses a universal calming strategy called "Shark breath." Parents have shared that their children show them (the adults!) how to take deep breaths or do yoga to calm down and a student shared that he made up a "shark breath" to use at night when he is scared of thunderstorms.

Students have rotating jobs to support taking care of others and the world. One unique job is a "Parkers Pal" who helps others solve problems and be a friend to someone who needs extra support.

Over the past few years, Early Childhood has partnered with companies including Whole Foods, First Community Credit Union, Target and Ikea to create engaging learning areas in the commons. The Whole Foods dramatic play area teaches students the value of taking care of themselves by eating healthy.
Parkway schools and the district also received 12 Promising Practice awards for 2018 from Character.org. To receive a Promising Practice, a school must demonstrate how they put one or more of the 11 principles of character education into action. Parkway schools earned the award for the following practices:

Hanna Woods won three awards: 'Taste of Hanna' cultural event; staff community service day and annual home visits

Highcroft Ridge: Learning through leadership

Mason Ridge: Choice professional development

McKelvey: Mindfulness

Pierremont: Bringing character to life service projects

Riverbend: Window and mirror diversity in our community

Ross: Character journals

Central High: School-wide day of service

West High: Environmental engineering students come together for Hurricane Maria victims

Parkway Schools: Restorative practices

Each year, Character.org and its state affiliates select schools and districts that demonstrate a dedicated focus on character development programs and a positive impact on academic achievement, student behavior, school climate and their communities.
Through an in-depth and rigorous evaluation process, these schools and district were found to be exemplary models of character development. Criteria for selection are based on Character.org's 11 Principles of Effective Character Education, a framework to assist schools in providing students with opportunities for moral action, fostering shared leadership and engaging families and communities as partners in the character-building effort.