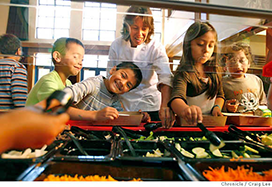 We hope you find the information available here useful to you and your family.
As you browse our page, you will find a listing of monthly menus, information about our free and reduced meal benefits, nutrition and allergy information, computerized point of sale system, employment opportunities and much more. We hope you enjoy the site.
Did you know that we can note your child's food account with a listing of food allergies? Just another set of eyes to help your child have a healthy, safe meal.
Remember starting July 18th, 2016 you can apply for the Free and Reduced meal program online. No paper application needed.
Our web page will always be a work in progress and we welcome your comments and suggestions. You may contact Susan at SBarks@parkwayschools.net.
Sincerely,
Marlene Pfeiffer, R.D., L.D.
Director of Food Services