Return to Headlines
Important update on second semester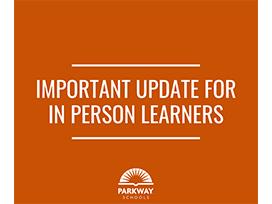 11/17/2020 -- The below letter was sent to parents, students and staff.
----------------------------------------------------------------------------------------------------------
Dear Parents and Students,

We continue to be impacted by COVID-19 in our communities and schools. It's fair to say we are all fatigued by this pandemic and its effects on our lives. While there are things outside our control, we still recognize the impacts our decisions have on our children and families and take this responsibility seriously.

When we decided to return to in-person learning in early October, our community was healthier. As you know, the transmission of illness is significantly higher now and Parkway zip codes are currently at the highest level of community spread we have seen since the pandemic began.

The Board of Education will consider a recommendation for the remainder of the semester at its meeting tomorrow, Wednesday, November 18. You can watch the meeting online starting at 7 pm here. For more information about the meeting and public comment, click here.

Here are some important things to know:
Illness and quarantines: We are seeing higher rates of illness and nearly 700 quarantines among students and staff, with more than twice as many active positive cases in our middle and high schools as compared to our elementary schools. See the data by school on our Community Health Dashboard here.


Illness by age: Parkway's experience is consistent with the regional data. Children ages 10-19 represent the highest test positivity rate among all age groups in the region, while children ages 0-9 represent the lowest among all age groups. To see more data by age group, click here.


Staffing: While we have not reached critical staffing levels in most of our schools yet, we have had to sacrifice services in some areas to ensure classrooms have a teacher. We have experienced significant staff absences, and similarly, seen many public and private schools in our region recently closed due to a shortage of teachers and staff absent for illness or quarantine.


Absenteeism and quality of learning: Our current blended learning schedule provides some in-person learning for students and maximizes the opportunity for social distancing. This is especially beneficial for our youngest students, many of whom are not equipped to learn online without adult guidance. However, due to the higher volume of illness, quarantines and challenges of the blended schedule, we are seeing a significant increase in absenteeism particularly in our high schools. Between 20-25 percent of students who chose in-person learning are not coming to school. While some of these absences are due to quarantine, many are due to concerns about COVID-19. Considering that about 30 percent of students are already attending Virtual Campus, only about half of our high school students are attending school in person.
The recommendation for the remainder of the first semester, which ends January 15, includes:
Elementary students in grades K-5 continue the blended schedule through the end of the semester. To limit the spread of illness and quarantines around holiday breaks, we are planning distance learning days for elementary students before and after holiday breaks. Distance learning days would include the three days after Thanksgiving (November 30-December 2); and before and after winter break (December 21-22 and January 5-6). If at any time we reach critical illness or staffing levels, we may need to close an elementary school or schools for a period of time until the situation improves.


Middle and high school students in grades 6-12 return to distance learning full-time starting November 30 through the remainder of the first semester. Students would continue to learn online with their current teachers five days a week using their current school schedule.
Virtual Campus students continue with their current daily schedule for the remainder of the first semester.
Parkway Early Childhood students continue with their current schedule. Early Childhood will have the same distance learning days as elementary schools before and after holiday breaks as outlined above.
This recommendation, if approved, would:
Allow us to proactively address staffing. We can move support staff and substitute teachers from our middle and high schools to provide support to students in our 18 elementary schools to help keep them open for in-person learning. For example, we could temporarily assign a middle or high school bus driver, nurse or custodian to support an elementary staff member who is ill or quarantined.


Prioritize our staffing resources to our youngest learners who are less equipped to manage virtual learning. Our middle and high school students have demonstrated higher risk for illness, spread of illness and quarantines that are disrupting their learning. While distance learning is not ideal, we know most of our older students are more equipped to learn online until the health of our community improves.
If this recommendation is approved by the board, we understand it will be disappointing to some families and staff. We share that disappointment, but feel this plan is in the best interest of our students and staff. We will continue to work to provide a full time in-person option for all students as soon as possible.
As we approach the Thanksgiving holiday, I want to thank you and your children for your understanding and continued dedication to learning. I am especially proud of all our teachers, principals and staff. If you would like to send your teachers a quick note of gratitude, here is a digital thank you card.

Please remind your children that we are proud of them. We have asked a lot of all of you as we work through this difficult time, and there is hope ahead. We will update you after the board meeting with our plan moving forward.

Sincerely,

Dr. Marty
Superintendent