Parkway Personalized

This spring, based on feedback from our community, input from groups of Parkway teachers, nearly two years of work by the personalized learning task force, and district action teams, we launched a long-term plan to personalize learning in Parkway.

A personalized approach to student learning will create opportunities for students to meet Parkway's mission in the following ways:

Seek to become increasingly self-directed, skilled and persistent learners
Be creative, thoughtful and effective problem solvers
Pursue a personal direction based on individual talents and interests



What is personalized learning?

Personalized learning in Parkway will include more flexibility for learners and teachers, more student voice and personalization to meet the individual needs, interests and goals of each student. Personalized learning is designed to offer students relevant experiences that allow them to problem-solve and prepare them for the real world - a world that we all recognize is ever-changing.

Where are we headed?

Over the next two years, you will continue to learn about personalized learning in Parkway. The first phase of this work includes opening a personalized elementary school and a secondary program intentionally designed to implement Parkway's Personalized Learning Model below.

2019 - Hire a personalized learning design team
Summer 2020 & 2021 - Personalized learning professional development
2021 - Secondary program will open as a stand-alone middle and high school
2021 - Sorrento Springs will open as a personalized learning elementary school

Parkway's Personalized Learning Model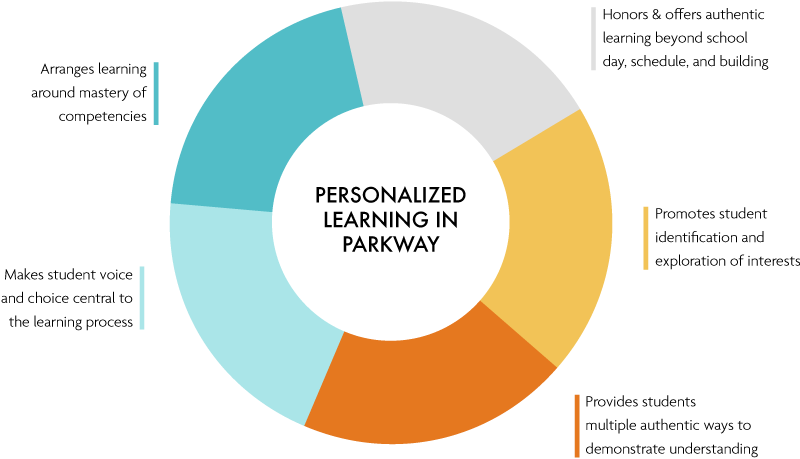 Within personalized learning, Parkway students will:



Solve authentic problems by using a variety of strategies, taking calculated risks, and engaging in deliberate design processes

Explore local and global issues by connecting beyond the classroom and work skillfully with others to achieve common goals and engage with the broader community

Demonstrate a growth mindset by intentionally seeking feedback, capitalizing on their strengths and transferring their understandings to new demands

Create original and remixed works to make their learning visible

Display perseverance by seeking out challenges and new experiences to see problems as opportunities

Reflect on their learning experiences and advocate for their individual learning needs

You might be wondering what personalized learning looks like in the classroom. See some examples below.